This article explains how to create a custom Google Analytics report that tells you what content pages people are saving to their Scrapbook in your Pugpig Publish application. 
HOW TO CREATE THE CUSTOM REPORT
In CUSTOMISATION > Custom Reports click New Custom Report
Give your report a Title and a Name for the report tab, such as 'Most Scrapbooked Content'
Set the Type to be Explorer
Add Total Events to the Metrics group
Add Event Label > Event Category to Dimensions Drilldowns
Then add a Filter with the condition include Event Action > Exact > 'AddToScrapbook'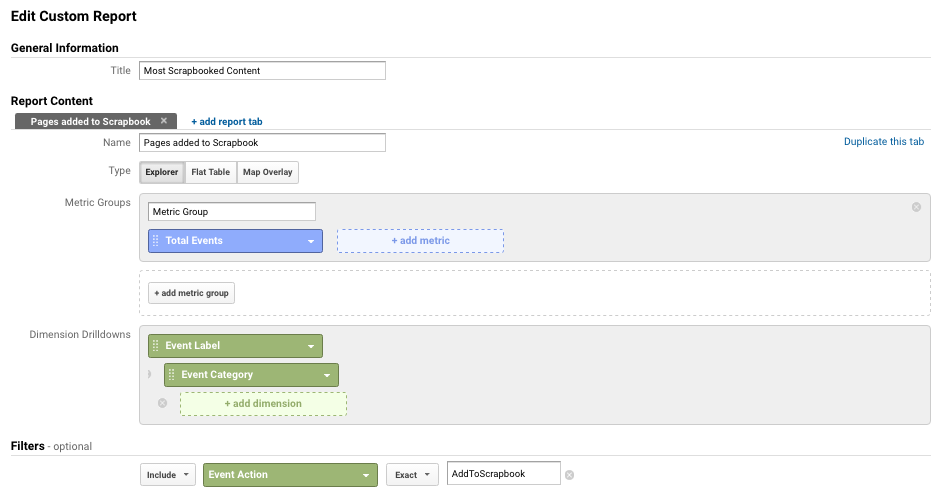 HOW TO FILTER YOUR REPORT FURTHER
You may want to filter the report further to just show data for a specific edition. This can be done on the fly by setting a specific Pugpig Edition Name in the advanced section of your report screen.

Alternatively, you can edit your original report and add the filter in the custom report form Filters section.

IMPORTING THIS CUSTOM REPORT TO YOUR OWN ACCOUNT
Click here to import this report in your Google Analytics account.
A NOTE ON THE PUGPIG METRICS USED IN THIS REPORT
This report uses the Pugpig event AddToScrapbook, an instance of this event along with the title of the page is tracked every time someone scrapbooks a page in the app. The page name is recorded in the Event Label which is what we are surfacing in this report. The page name takes the format 'edition name: page name' in the report.