That ubiquitous cog icon is a friend of all mankind. It gives users the place to get down into the nitty-gritty without us having to clutter up your UI with countless buttons and knobs. Again, it depends on how your app is set up but you'll generally find 3 things under the cog, these are:
Scrapbook. A place for your users to store content they want to come back to later. More on this below.

Account. A handy destination for users to sign in, sign out, manage their subscription options, restore existing subscriptions and more.

Settings. Where we store most of the aforementioned buttons and knobs.
Scrapbook AKA Bookmarks
Hold the glitter glue, this isn't that kind of scrapbook, it's digital, for a start, and just generally much better than what you might find in your aunt's attic.
Essentially, scrapbooking allows the user to save content to easily find and come back to later. This might be something they've read and want to reference later, like a recipe or workout, or an article they didn't manage to finish (or start) reading and want to return to.
Scrapbooking provides one destination to store all of these favourites, without the user having to try and find the edition they read it in and e-rifle through the pages to find it.
And if you do feel that name is a little too twee for your app, we can always change it, bookmarks or favourites being popular choices for alternatives.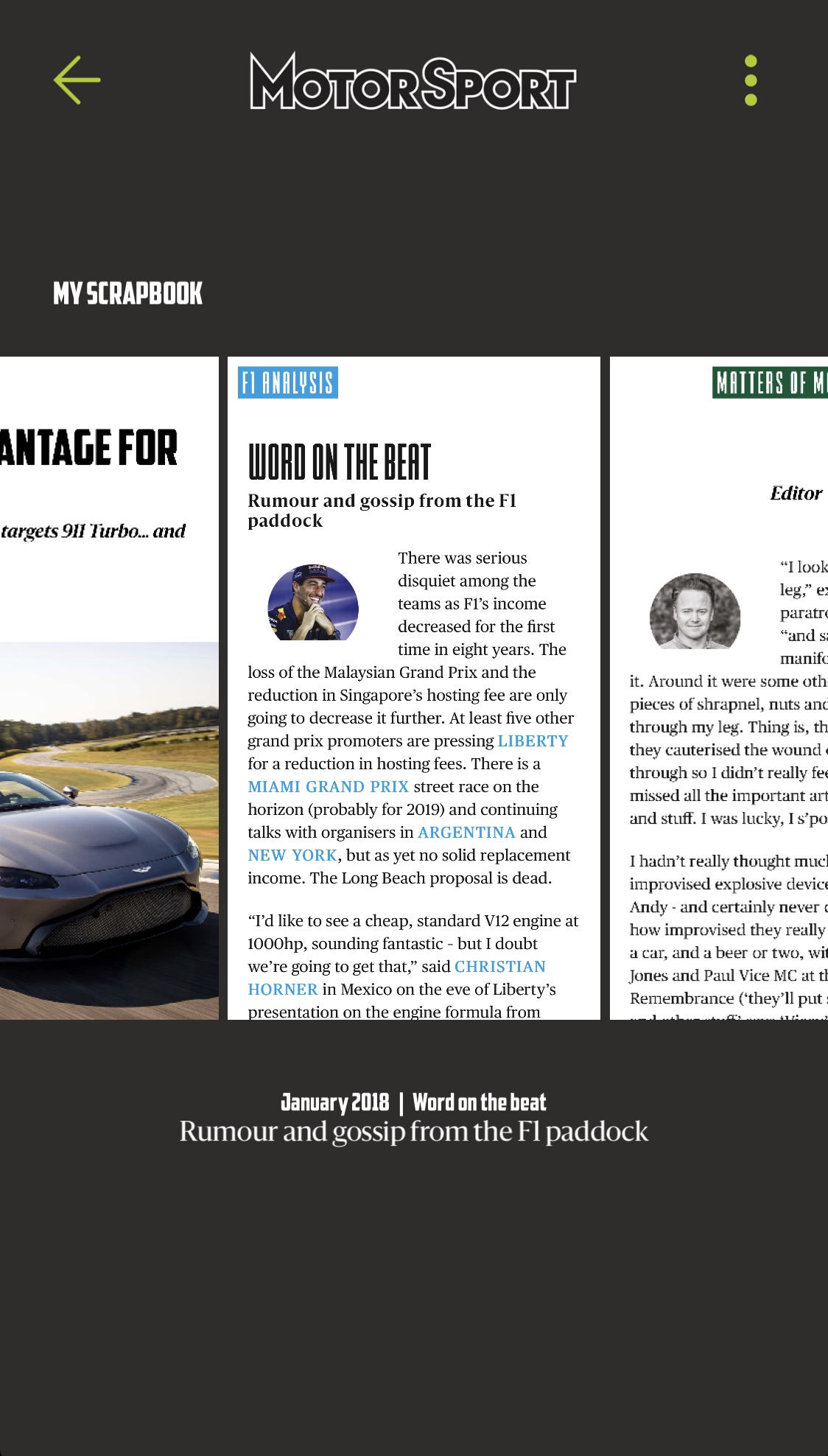 Account
Some users have long, rich histories with your publication, others have just signed up and aren't entirely sure what you're all about. In both of these cases, and a great deal more in between, users need a place to manage this relationship.
The account screen is this place, and we give you great latitude to decide how best to manage it. However, there are a few items we strongly recommend you include.
Restore purchases. It's a pretty terrible experience to boot up that shiny new iPad and find out that the magazine you were halfway through reading isn't on it. A simple tap of this button will put everything right back the way you left it.

Subscription options. You want to ensure there's

always

a place for users to sign up for a subscription. Tapping this button can directly bring up the system subscription dialog, minimising the number of taps required for a user to successfully sign up.

Existing subscriptions. This is key if you'll be integrating your own subscriptions system with the app. This provides a consistent destination for users to sign in and get access to what they've paid for.
Settings
We do our best to ensure that your app is set up perfectly right out of the box, making it as easy as possible for your readers to pick it up and start reading.
That said, we know that a little bit of customisation can go a long way to making your app an even better experience for your users. For this reason we offer our customers the ability to add a settings menu with a number of common configuration options. Custom items can be added to this list should you require.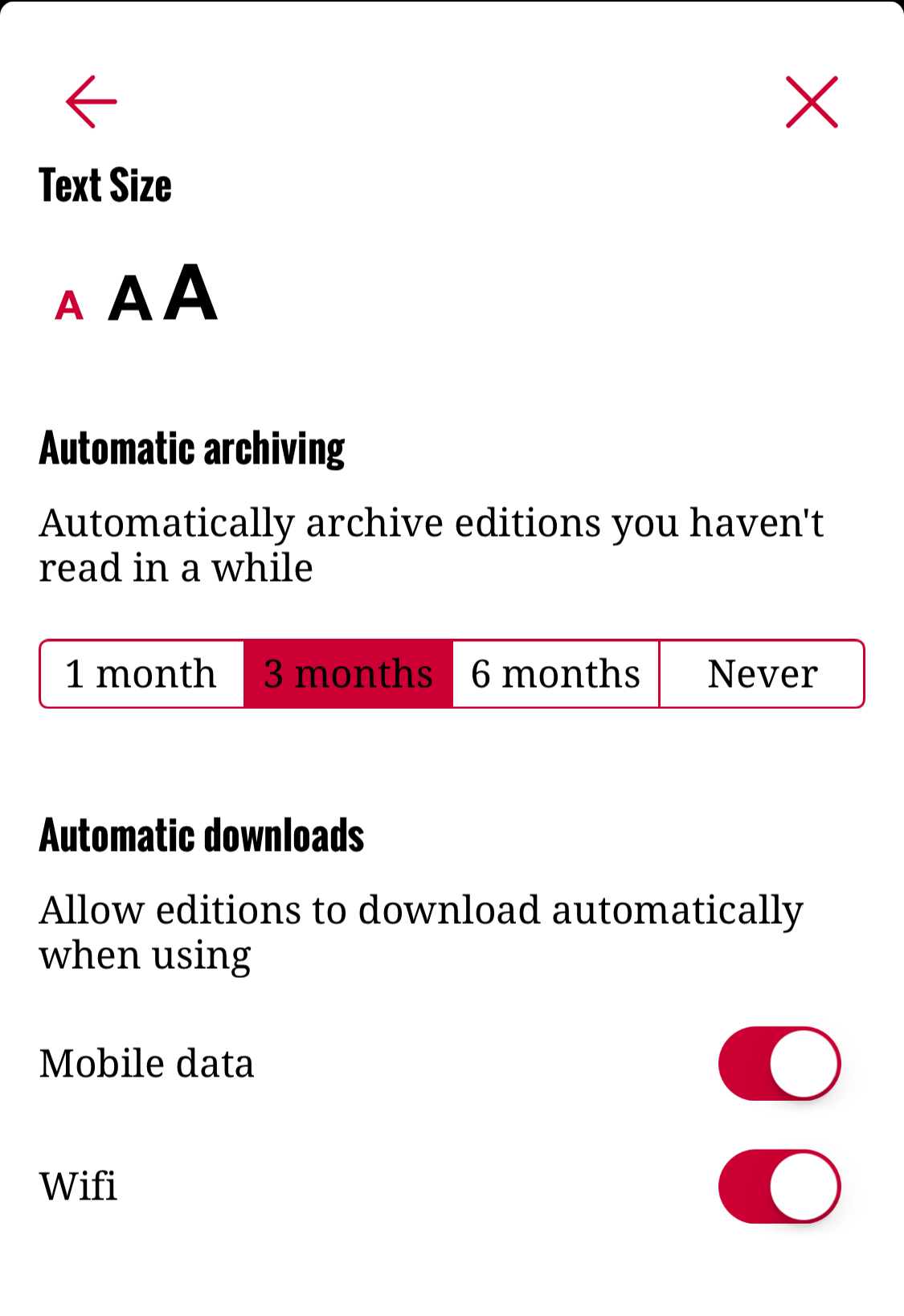 Here's a list of the settings most commonly used by our customers.
Text size: We allow users to increase the size of text in the app to make reading easier. Users can select small (default), medium or large text which will be dynamically applied to your app.
Automatic Downloads: Allowing the app to download content in the background means the user should always have access to the latest content. It's a powerful feature, but it can also prove an expensive one if users are regularly downloading large files over their mobile data. This setting allows users to restrict automatic downloads to only happen when they're connected to Wifi, or not at all. Of course, if users are comfortable with their data usage, they can enable automatic downloads over mobile data.
Automatic archiving: Just as it's incredibly useful to automatically download content, it's very annoying if suddenly you find yourself running out of space due to the 300 back issues of a daily newspaper that have been quietly accumulating. Fortunately, we offer a solution for this too. We can automatically delete issues from the user's device after the user hasn't opened them for a set period of time. Our default options for this period of time are 1 month, 3 months, 6 months, 1 year, or never. 
Changing things post-release
Something we've been focusing on for some time is trying to reducing the number of reasons you'd have to release your app. This takes up your time, our time and unless we're adding awesome new functionality (which we do quite regularly) nobody really wants to do it.
With this in mind, many parts of your app pull their data directly from our servers on app start-up. This means that if you need to change a line of text there, or a setting here, you can easily do so without requiring your users to do anything more than open their app again.
Content that is currently configurable from the server includes:
Your filters

All promo slots

Account screen and setting screen copy
Note that a user will still have to completely close the app, not just minimise it, for the changes to reflect on their device.