One of the most popular metrics for Pugpig Publish clients is how many users have downloaded each edition, as this can be used to measure the levels of engagement with content and it's popularity. This article runs through how to set up a Custom Report that provides this information for you in the Google Analytics dashboard. 
Note that we already provide you with reports on this metric, as well as on download success rates, in the Pugpig Distribution Service Analytics Add On so would advise checking this interface as your first port of call. 
HOW TO CREATE THE CUSTOM REPORT
In CUSTOMISATION > Custom Reports click New Custom Report
Give your report a Title and a Name for the report tab, such as 'Downloads per Edition'
Set the Type to be Explorer
Add a Metrics group called Event which includes Total Events and Unique Events
Under Dimensions Drilldowns add Pugpig Edition Name > Event Label
Then add a Filter with the condition include Event Action > Exact > 'DownloadCompleted'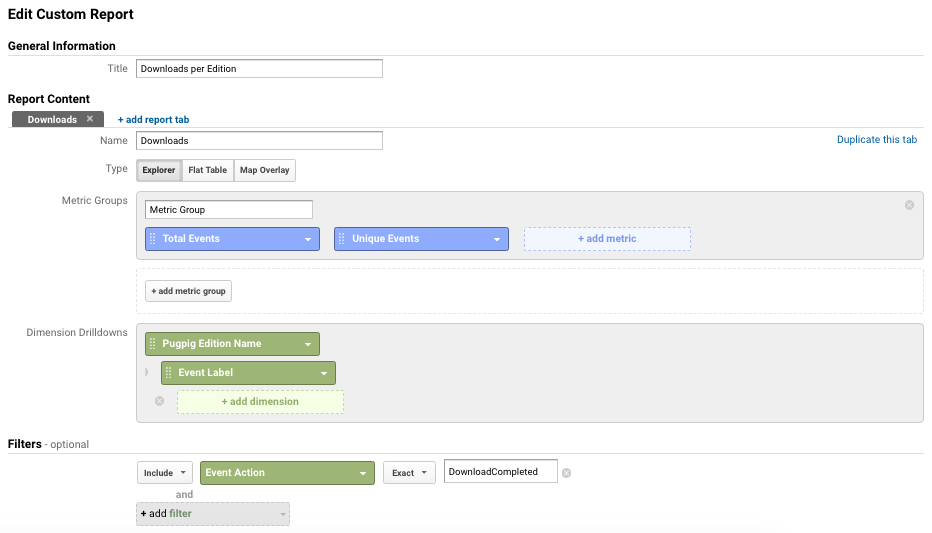 HOW TO FILTER YOUR REPORT FURTHER
You may want to filter the report further to just show data for a specific edition. This can be done on the fly by setting a specific Pugpig Edition Name in the advanced section of your report screen.

Alternatively, you can edit your original report and add the filter in the custom report form Filters section either in your existing report tab.

MORE OPTIONS
We wanted to flag that you could just as easily set this report up as a custom Widget in a Google Analytics Dashboard view. See details of our example Pugpig Publish Dashboard here. 
IMPORTING THIS CUSTOM REPORT TO YOUR OWN ACCOUNT
Click here to import this report into your own Google Analytics account.