This feature gives non users the ability to view a select amount of your content before agreeing to purchase a subscription/single issue. It is only available for editions that are paid for/subscription based. The number of 'free sample' articles isn't limited. 
First step will be to set up the edition correctly 
1. Go into the edition you wish to display some free articles. (Edition > Click the title of the edition) 
2. In 'Edition Info' you will see a setting 'Access'. Set the edition stage to 'Paid with free samples' as shown below. 
('Show to' means whether the edition is visible in the storefront to those who haven't signed in, 'All Users' is the default')

3. Select 'Update' and you will now see the state of the edition has changed. 
Next will be to set the articles you would like to be free samples 
4. Select 'Articles' from the left hand tab and find an article you would like to make a free sample. 
5. Click into the article.
6. On the right hand side you will see a number of different options, one being 'Free Sample'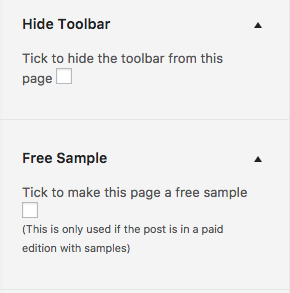 7. Tick this box and hit 'Update' on the article.
8. Remember to push the changes to distribution through the distribution tab and the changes will appear in the app! 
If you have any trouble with this please email support@pugpig.zendesk.com