This article explains how to track the the number of times users have clicked on the external links in your Pugpig Publish app content. This metric is normally important in the context of adverts so we will explain how you can filter this report to just show 'ad clicks' rather than clicks for any external links in your content. 
HOW TO CREATE THE CUSTOM REPORT
In CUSTOMISATION > Custom Reports click New Custom Report
Give your report a Title and a Name for the report tab, such as 'External Link Clicks'
Set the Type to be Explorer
Add a Metrics group called Event which includes Total Events and Unique Events
Under Dimensions Drilldowns add Event Label > Pugpig Page Name
Then add a Filter with the condition include Event Action > Exact > 'ExternalLinkOpened'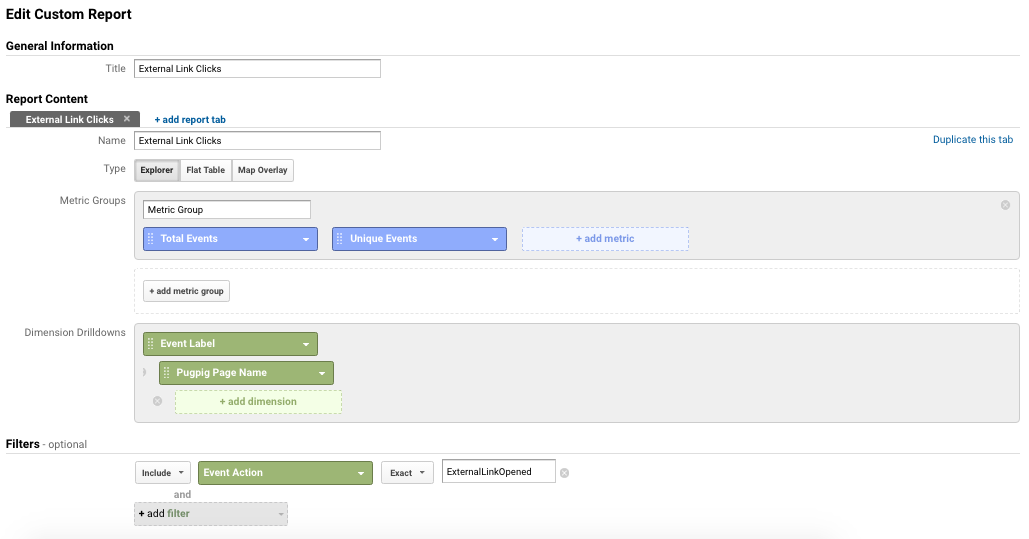 HOW TO DRILL DOWN AND FILTER THIS CUSTOM REPORT
Once this report has been saved it will show you how many times external URLs included in any of your Pugpig content have been clicked by users. However, you may want the report to just show external links clicked in a specific subset of your content like adverts. To do this you will need to filter your report by 'Pugpig Page Type' eg:

Note that the 'Pugpig Page Type' values you will need to filter by will depend on what type of page your adverts have been created as and the values set for them in your edition atom feed. For instance Pugpig Express users who create their adverts using the HTML Zip content type would need to add a filter of Pugpig Page Name > Exactly Matches > 'pugpig_ad_bundle'. Whereas Pugpig Express users who use the Full Screen Image page type to create their adverts would need to use a filter of Pugpig Page Name > Exactly Matches > 'full_page_image'. 
IMPORTING THIS CUSTOM REPORT TO YOUR OWN ACCOUNT
Click here to import this report into your own Google Analytics account. 
A NOTE ON GOOGLE ANALYTICS METRIC DEFINITIONS
This report uses the standard Google Analytics Metrics Total Events and Unique Events. These are defined by Google Analytics as follows: 
Total Events: The number of times events occurred.
Unique Events: A count of the number of times an event with the category/action/label value was seen at least once within a session. 
Most of the time you will want to use the Total Events value from this report but there are cases where the Unique Events value is useful and you can find out more about how this is measured in Google Analytics help pages here.