There are a few simple steps you will need to follow to set up your Google Analytics with Pugpig. In most cases, you will need to complete all four steps to fully integrate GA into your app but ask your Pugpig Onboarder or support@pugpig.com if you are unsure if any of these steps are applicable to you. 
1. SET UP A GOOGLE ANALYTICS PROPERTY AND SHARE KEYS
CREATE AN ACCOUNT
You will need to make sure you have set up a Google Analytics account before you can set up the analytics for your Pugpig app. https://analytics.google.com/.
Within your Analytics account, you then add the properties from which you want to collect data. You will need to set up one property per Pugpig app. 
CREATE A PROPERTY
Once you are in your GA account choose the ADMIN section
Then from the PROPERTY menu choose Create new property from the drop down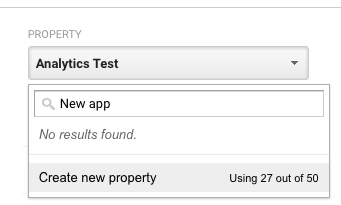 Choose Website and enter Pugpig details (this can be any website, and nothing from this website will be tracked, it's simply to set up the property and get the GA key). 

Website Name Pugpig 
Website URL pugpig.com 
Click Get Tracking ID
The next page will display your Tracking ID (this will be in the format UA-XXXXXXXX-XX), please make a note of this as you'll need to send this to your Pugpig Onboarder. 
Next, click the back arrow next to the Property name 
In the VIEW column, you should see that 'All Web Site Data' view has been set up. Select the drop down box and Create new view
Select Mobile app and name this view 'All Mobile App Data'. Create View.
When this view has been created, select View Settings and send your Pugpig Onboarder the View ID 
By the end of this step you should have your Property ID and View ID noted down and ready to send over to your Pugpig Onboarder. 
2. CONFIGURE WITH THE PUGPIG DISTRIBUTION SERVICE
As well as sending up the details from the Property you have set up you will also need to give us permission to pull your data into the Pugpig Distribution Service. 
To do this under ADMIN > PROPERTY > User Management add the following email address with Read & Analyze rights:
48667959683-33mmn6l8m298p851s1lnktbbi7khil73@developer.gserviceaccount.com

By the end of this step you will have shared access to your Property with the gserviceaccount email address listed above.
3. SET UP PUGPIG CUSTOM DIMENSIONS
You will also need to add Pugpig Custom Dimensions to your Property to get our standard analytics reporting. Custom Dimensions are set at the Property level so if you are creating keys for multiple Pugpig Apps these will need to be set up on every app Property you have created. 
Go to ADMIN > PROPERTY > Custom Definitions > Custom Dimensions
Select NEW CUSTOM DIMENSIONS
Here you will need to create the following custom properties, matching the Custom Dimension Name and Scope. You will need to add the custom properties in the same order as below so the Index also matches: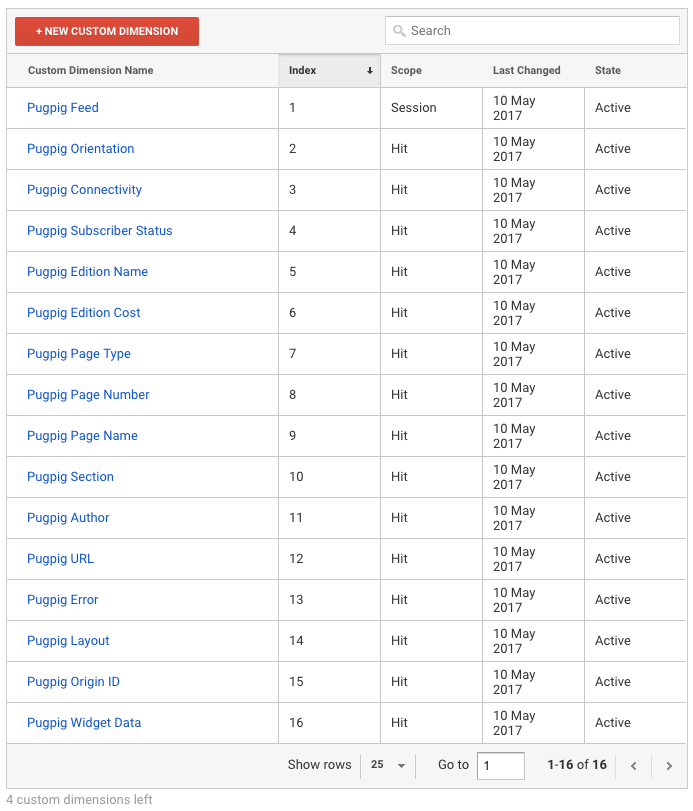 * Number 14, 15 and 16 should only be added if you are using Pugpig Bolt.
** You need a Google Analytics Premium Account to have more than 20 Custom Dimensions per Property. At the moment you can set additional custom dimensions in the article atom feed or user properties.
*** Note the Pugpig Analytics Module ignores any index lower than 18 as these are reserved for use by the Pugpig app. 
By the end of this step you will have configured the list of Custom Dimensions printed above on your GA Property. 
4. ENABLE DEMOGRAPHICS AND ATTRIBUTION
In order to be able to see certain types of reports in your Google Analytics Dashboard there are a couple of additional things you must configure.
In your Google Analytics account, navigate to the ADMIN tab.
Select the relevant account and property and then click on Property Settings
In the Property Settings view, located under the following headings, switch on > Advertising Features > 

Enable Demographics and Interest Reports

and iOS Campaign Tracking > 

Enable Campaign Tracking Features
Save and then return to the REPORTING tab and navigate to Audience > Demographics > Overview and follow any remaining actions around validation of demographic code.
You should then start to see tracking and reports appear in the Audience > Demographics dashboards.
Also click through to Acquisition > Sources > All and iTunesBETA and check you see reports coming through here too.
By the end of this step you will have enabled the permissions required to allow you to see certain Demographic and Attribution data in your GA Dashboard.  
*OPTIONAL EXTRA STEPS
Alongside this, it really helps us, help you, not only with the general support we can provide but also to guide our Pugpig product direction and roadmap if we can get account access to your Google Analytics Dashboard. We can then analyse the app data and also set up Goal Conversions and Funnels. This is purely optional but if you are happy to please give analytics@kaldorgroup.com Read & Analyse, Edit and Collaboration rights.
Under Admin > Property > User Management add the following email address analytics@kaldorgroup.com with Read & Analyze, Edit and Collaborate rights: