This custom report shows the average time spent in a specific edition across your total audience. *This report is applicable to Pugpig Publish customers*
HOW TO CREATE THE CUSTOM REPORT
In CUSTOMISATION > Custom Reports click New Custom Report
Choose a Title and a Name for the report tab, such as 'Time Spent Per Edition'
Add Time on Screen to the Metrics Groups included in the report
Add Pugpig Edition Name in the Dimension Drilldowns section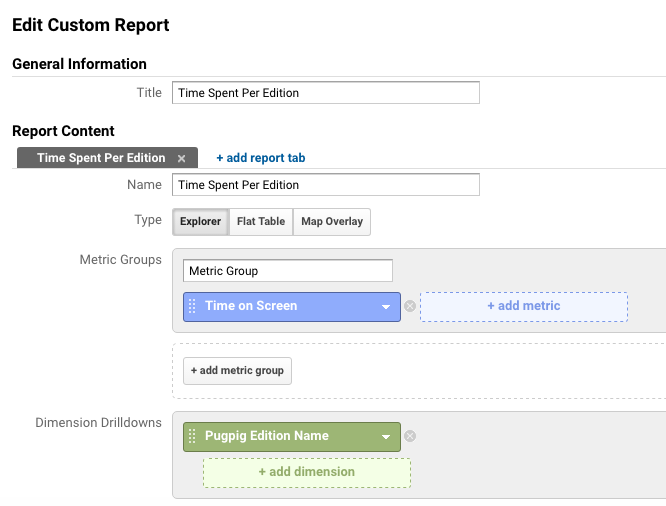 HOW TO FILTER YOUR REPORT FURTHER
You may want to filter the report further to just show data for just one edition. This can be done on the fly by setting a specific Pugpig Edition Name in the advanced section of your report screen.

Alternatively, you can edit your original report and add the filter in the custom report form Filters section either in your existing report tab or in a new one.

Any of these filter choices are valid so pick what makes the most sense for your own reporting needs! If you think you will want to return to the report in order to continue monitoring this metric for certain editions it might make sense to create multiple tabs in your Custom Report each with a different edition name filter set. 
IMPORTING THIS CUSTOM REPORT TO YOUR OWN ACCOUNT
Click here to import this report into your own Google Analytics account. 
A NOTE ON GOOGLE ANALYTICS METRIC DEFINITIONS
This report relies on a standard Google Analytics Metric called Time on Screen. Google Analytics defines this as "The average amount of time users spent viewing a specific screen or set of screens". You can find out more about how Google Analytics defines Time on Screen in their documentation.