This report can be used to find out how many sessions unique users had per edition. In this case, we can find this information by using a standard Google Analytics report and adding a custom segment rather than creating a fully custom report. *This report is applicable to Pugpig Publish customers* 
HOW TO VIEW THE REPORT
 View the Loyalty report by going to Audience > Behaviour > Loyalty
This report shows us the number of app users by number of sessions. Eg. How many users had 1 session instance, how many users had 2 session instances etc.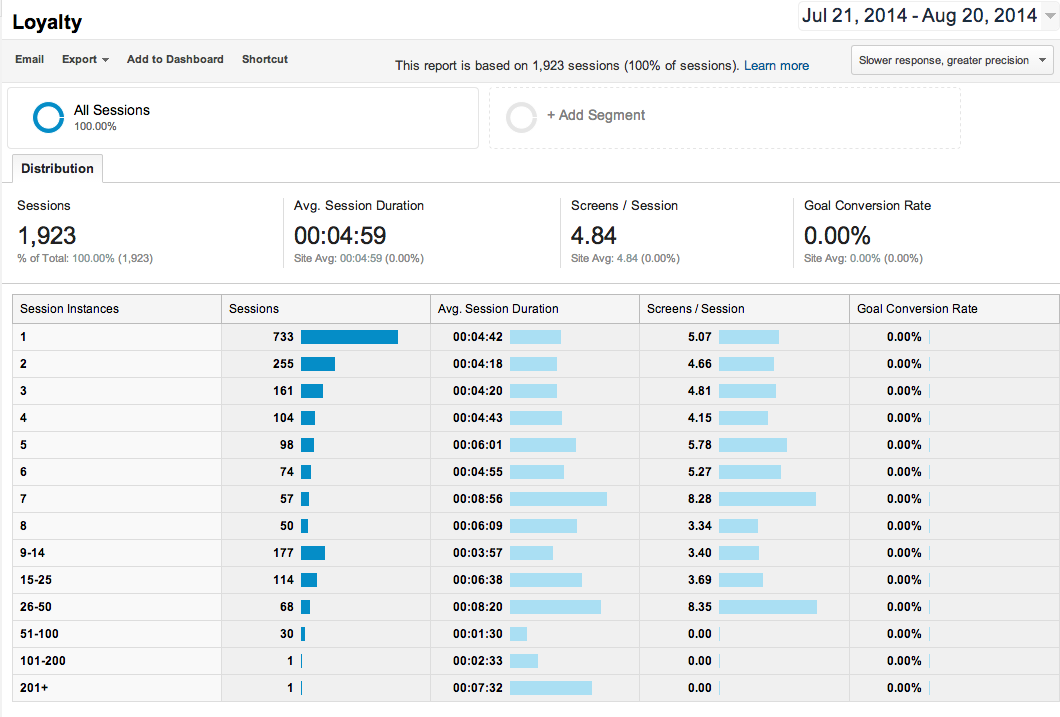 For example in the above diagram, there were 733 unique user sessions in the 1 Session Instance bracket which means that 733 unique users had 1 session in the selected time frame.
HOW TO FILTER THE REPORT BY EDITION
To segment this data by edition you must create a custom segment.
Click Add Segment

Choose New Segment and under Advanced > Conditions
In the Ad Content drop down select Pugpig Edition Name. Add the name of the edition you want to filter by, '13 August 2014' or 'Edition 23'...
Then name and save your segment
You can now view the number of times users accessed an individual edition within the specified report time frame
In the below example 58 unique users accessed edition '13 August 2014' once, 17 unique users accessed the edition 2 times….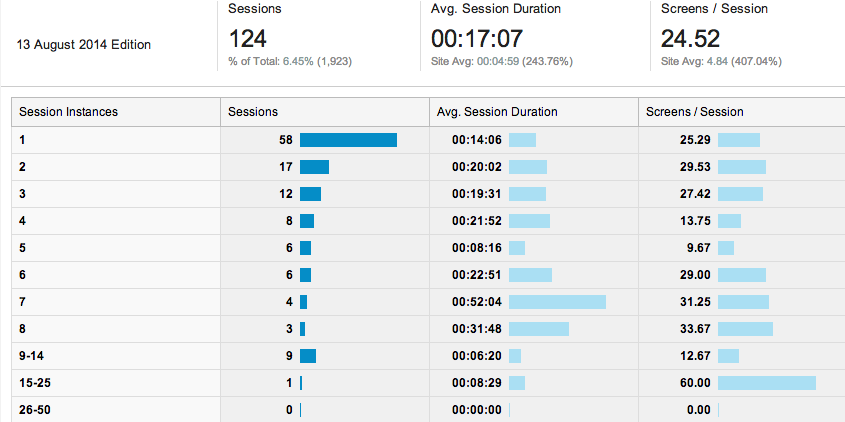 A NOTE ON GOOGLE ANALYTICS METRIC DEFINITIONS
This report is a standard Google Analytics report and uses a lot of metrics defined by Google including Sessions and Avg. Session Duration. Google Analytics defines Sessions as "Total number of Sessions within the date range. A session is the period time a user is actively engaged with your website, app, etc. All usage data (Screen Views, Events, Ecommerce, etc.) is associated with a session". Please review Google Analytics own documentation if you want more information on how they define these metrics.