We have moved to docs.pugpig.com! You can find this article here
This article includes a list of all the main providers/categories and their current state of integration with Bolt, with examples where necessary. It also includes detailed flow charts detailing how these integrations work.
DFP Banners
These banners are served via the Google Ads SDK. The only supported size is 320x50, which is also a size supported by AdSense for programmatic backfilling. The ad unit is configured in Google Ads and then the tag entered into our Express CMS. This works both in article and on the timeline.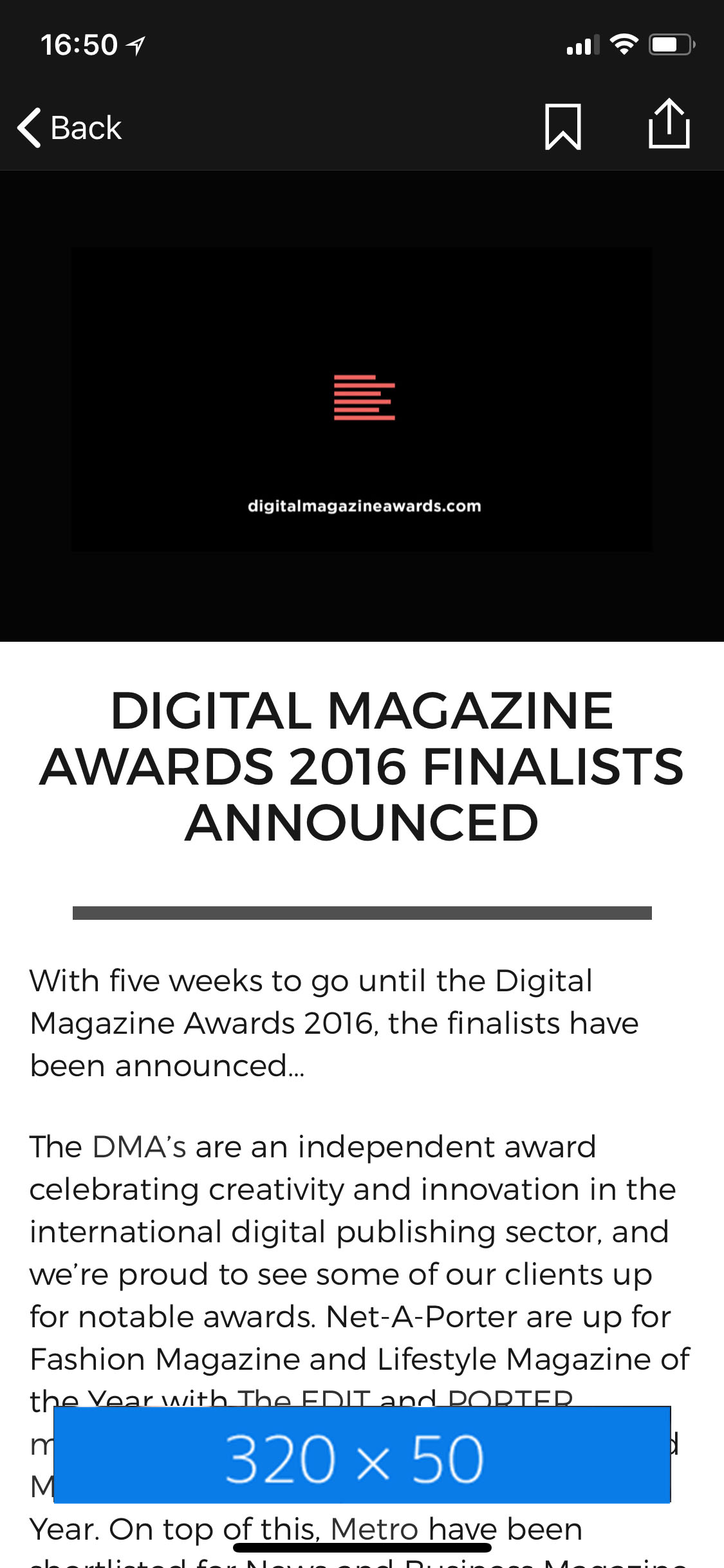 In-content ads
We also support the ability to serve ads within the content view of an article. This uses the standard 300x250 size creative. However, this ad unit cannot utilise AdSense backfilling via Google Ads. This is due to a stipulation in Google Ads's terms which does not allow the serving of AdSense ads in a web view that's inside an app. As our content view is precisely that this ad unit is only suitable for direct-sold campaigns. The ad unit will collapse if there's no suitable ad to serve.
Ad units are specified app-wide, with the option to override on a per-section, edition or article level. This is all handled within the Pugpig Express CMS.
Additionally, we have the ability to not show ads for specific users, this is based on the response we get from your authorisation system, which optionally passes a flag into the content which disables ads for that user. This can be useful if, for example, you don't want to ads to premium users, or younger users.
Full list of integration capabilities
DFP

Serving of direct-sold campaigns in the timeline as 300x250 or 320x50 creatives. This is achieved without the DFP SDK as it's a web implementation.

Serving of direct sold or programmatic campaigns in the content view via a bottom banner

Ad Exchanges
Provided DFP is being used as the ad server and the actual ad units, customers should be able to plug in any exchange with a DFP integration and use that to backfill. This will use the programmatic solution.
AdSense
Native banners overlaying the bottom of the content view. We cannot backfill our content ads with AdSense due to limitations in DFP. As such this is the way we can offer programmatic inventory in our apps.
AdMob
Not supported.
Ad Exchange Mediation
This would be custom work as there are so many of these players and they keep popping in and out of fashion.
AppNexus
Can be integrated with our current DFP solution. Implementing it as the actual ad-serving tool, however, would be custom work.
OpenX
See AppNexus
Facebook Audience Network
Currently not supported, but can be plugged into DFP as an ad exchange
Basic DFP Integration
Only works for direct-sold campaigns
Supported dimensions: 300x250 and 320x50
Can't backfill with programmatic. If there aren't ads to show, the unit will collapse.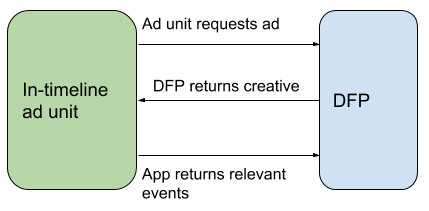 Programmatic DFP Integration
Uses a native ad unit which enables backfilling
Direct-sold campaigns can also use these units
Supports IAB standard size creatives

DFP Implementation with multiple ad exchanges
Same functionality as programmatic integration, but extended to included multiple exchanges managed by a mediator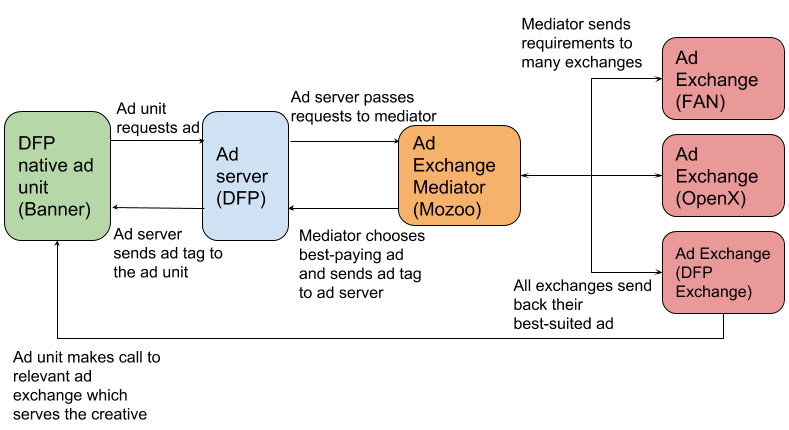 Simple flow using all elements